October 23, 2023
Dear FLWF Members and Findley Lake Community,
I am thrilled to write to you today on behalf of the Findley Lake Watershed Foundation (FLWF) as its President. It is with immense gratitude and excitement that I address this letter to each and every one of you.
Our journey towards the next step in the betterment of Findley Lake has been a long and challenging one, and it would not have been possible without the unwavering support of our dedicated community and Foundation members. I am overjoyed to share the wonderful news that, thanks to your votes and resounding approval, the sewer district project has unofficially been given the green light.
Your commitment to this cause has been truly inspiring. Your votes signify not just a simple approval but a shared vision for a cleaner, healthier, and more sustainable Findley Lake. This project is a testament to our collective determination to preserve the natural beauty and ecological health of our beloved lake.
The impact of this decision goes far beyond the scope of a sewage system. It is a declaration of our commitment to environmental conservation, public health and a thriving community. By approving the sewer district, we are taking a significant step forward in ensuring the longevity of Findley Lake as a place we are proud to call home.
We want to express our heartfelt gratitude to each member of the community who participated in this crucial vote. Your engagement in the democratic process is a reminder of the strength that lies within our community. Together, we have shown that we can tackle challenges head-on and work towards a brighter future for Findley Lake.
In the coming months, the Town of Mina will embark on the process of implementing the sewer district project.
As stewards of Findley Lake, your Watershed Foundation sees the Town's implementation of the sewer system as a crucial next step on the path towards realizing a comprehensive solution for improved water quality that we've outlined in communications over the last few months. The FLWF will need the support of the entire community as we move forward with other elements of a comprehensive solution (such as in-lake controls and use of herbicides) and we invite you to join us on this journey. The FLWF is committed to keeping you informed every step of the way and ensuring transparency in our actions.
Once again, thank you for your unwavering support and for believing in the Findley Lake Watershed Foundation's mission. Together, we are making a positive impact on our community and the environment. Let us move forward with the same spirit of unity and determination that has brought us this far.
If you have any questions or would like to get involved in any way, please do not hesitate to reach out to us. We value your input and are eager to collaborate with you as we move forward.
With deep appreciation and excitement for the future.
Edward M. Mulkearn, President
Findley Lake Watershed Foundation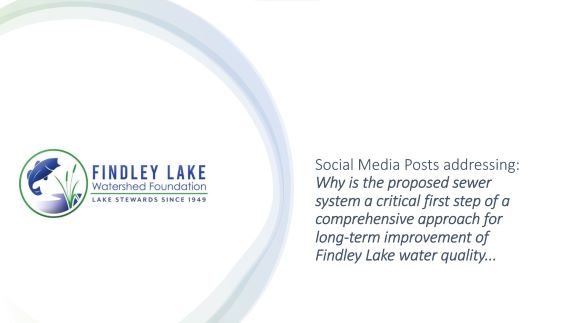 ---

---