Welcome to the Findley Lake Watershed Foundation
Findley Lake is a picturesque 300 acre lake located in Chautauqua County, NY (click here for map), Findley Lake has been enjoyed since its creation in 1815 by Alexander Findley for all types of lake activities such as fishing, boating, sailing, kayaking, swimming, skiing. and ice fishing in winter. The Findley Lake Watershed Foundation (FLWF) manages the Lake to enhance water quality for a healthy ecosystem and to facilitate the myriad uses by the public. In addition, the FLWF manages the Lake level by adjusting the spillway overflow level at the dam at the North end of the Lake to minimize damage to docks and other structures from ice flows. The FLWF is a 501 (c)(3) non-profit oganization that is able to enhance the lake for your enjoyment because of donations/ memberships and grants. If you enjoy the Lake and would like to be a part of the ongoing enhancements within the Lake and the Findley Lake Watershed, we encourage you to become a member or renew your membership.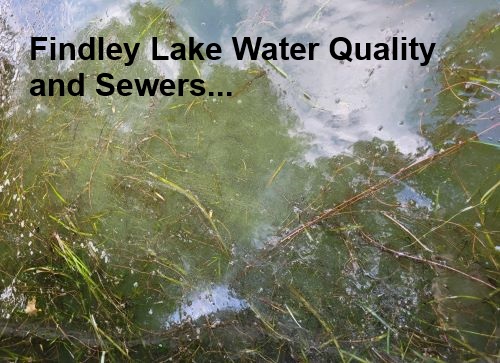 Sewers are Crucial for Long-Term Water Quality of Findley Lake

We have significant and ongoing impairment of Findley Lake's water quality.

The TMDL and Princeton Hydro reports show that both internal loading and external loading are continually feeding the phosphorous problem in Findley Lake that is resulting in excessive weed growth and algal blooms. Our use of Findley Lake is already impaired and without significant changes, it will continue to get worse. Internal loading produces about 498 lbs./yr of P releasing from bottom sediments but we need to note that the P got into the sediment initially from an external source. External loading is the cause of 939 lbs./yr of P entering the lake with the septic systems being the largest chunk of that – currently at 425 lbs./yr.

For long-term improvement of the lake water quality, we need comprehensive solutions that address both internal loading and external loading.

Internal controls such as aeration, alum (if allowed by NY DEC), dredging, and continued use of weed harvesting to remove P within the biomass from the watershed can address a significant part of the problem. But, NY DEC grant funding for these options will only be considered after we address external sources (primarily septic systems). And if we only address the internal sources the lake will never get below the TMDL for P, which means we will forever have excessive weed growth and algae issues.

Examples of key external source controls include: erosion and sediment control using stormwater retention ponds, best management practices for agricultural runoff (note that the largest farm in our watershed already employs management practices that are monitored by the state – so not much more is likely to be gained here), and sewers.

So, what if we eliminated all internal sources and external sources except septic systems? We would still have 425 lbs./yr of P entering the lake from septic systems, which is 175% of the 242 lbs./yr limit to prevent ongoing degradation of the lake. The proposed sewer system is a required next step of a comprehensive solution if we hope to have significantly better water quality in Findley Lake for generations to come.
---
The FINAL 2023 Weed Harvester Report thru September 23, 2023 is available by clicking: Weed Harvester Data Updates
---